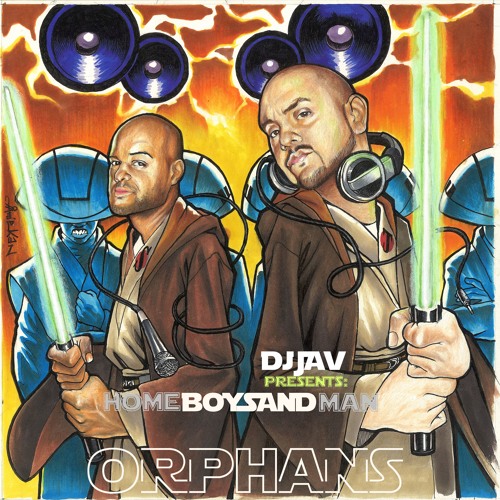 [soundcloud url="http://api.soundcloud.com/tracks/79789750″ params="" width=" 100%" height="166″ iframe="true" /]
Hailing from the DC/MD/VA area, DIAMONDCUTTERZ' DJ JAV holds down several club residencies, rocking crowds throughout the area on a weekly basis. Both a friend and astute fan of Homeboy Sandman's music and movement, DJ JAV proudly & humbly took on the mission of shedding light to some little known, underexposed or simply slept on Boy Sand heat rocks.
Fresh out of the lab with exclusive remixes and an exclusive radio freestyle, the 80 minute long mix "Orphans" highlights 30 Homeboy Sandman gems exhibiting elite lyricism and wordplay combined with amazing production from the U.S. to London & Wales, brought to life by the likes of P.So, 2 Hungry Bros, Psycho Les, Jinesis and more. An Intro beat produced by Low Budget Crew's Kaimbr and cover art by DC Native Aniekan Udofia make this project a definite must listen.
The A Side
1. Orphans Intro (produced by KAIMBR)
2. Shouts to Common (produced by Reality)
3. Bonkers (produced by P.So)
4. Sand Be The Broham (beat jacked from an Asher Roth joint)
5. Not Pop (Remix by Jinesis)
6. Same Number Same Hood (produced by 2 Kids From Pluto)
7. Increíble –The Boy Sand Remix (beat jacked from a Mickey Factz joint)
8. Beautiful Life (Dilla beat but jacked from Q-Tip)
9. Chimera Out Now (produced by Fred Ones)
10. Fully Equipped (produced by The Clubhouse)
11. Reloaded w/Javier Starks & Substantial (produced by Joe D.)
12. 72 Bars for Chosenberg (produced by 2 Hungry Bros)
13. New York Knights (produced by DFM)
14. A Weird Day (produced by Paul White)
15. The Carpenter (Cassettes Won't Listen Remix)
The B Side
16. Halftime Radio Freestyle w/DJ Eclipse shout out DJ JAV
17. Can You Feel It? (produced by MisterDigital)
18. Rated Ours (produced by K.O. Beatz)
19. I Knew (beat completely jacked from 24 Carat Black)
20. Flute Killas (produced by Psycho Les of the Beatnuts)
21. Subject Matter Out Now (produced by Audio Games)
22. Holy Mackerel featuring Sene (produced by J57)
23. Maestro Madness (produced by Jinesis)
24. Look Out (Cassettes Won't Listen Remix)
25. Fantastic (produced by Steve Austin)
26. Love Love 2 (produced by Nate G)
27. Canned Goods (Sir Preiss Remix)
28. Parallel Perpendicular (produced by 2 Hungry Bros)
29. First Of a Living Breed Out Now (produced by Paul White)
30. Sputnik (Remix by Krash)
31. Brown (produced by Jonti)
32. Orphans Outro
Leave a comment and let us know what you think.