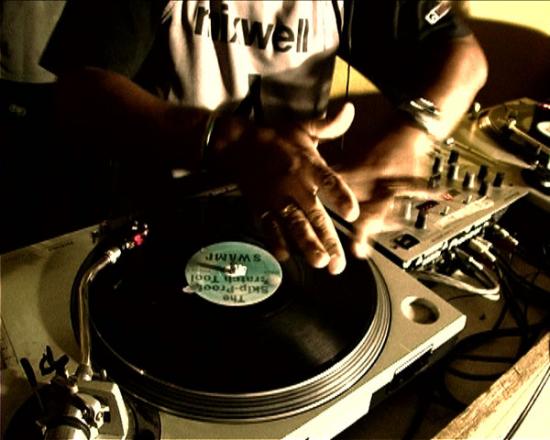 August is coming to a close and while it signifies summer's end, it also marks the beginning of a new school year for a wealth of students. With class back in session, The BoomBox is teaching some valuable lessons with this Hip-Hop and R&B Study Guide. Not in tune with rap veterans? Can you never quite get a grasp on R&B's roots? Not a problem. From solo acts to groups, there's a bunch of lyricists and singers to listen to but we've narrowed them down to a select few — though there are so many more to include. Adding these 10 essential albums to your collection will have you on your way to understanding the fundamentals of hip-hop and R&B. After all, it's never too late to get schooled.

'The Chronic' – Dr. Dre
With 'The Chronic,' Dr. Dre single-handedly launched a West Coast rap takeover, popularizing gangsta rap and introducing both his signature Parliament-Funkadelic-sampled G-Funk sound and his team, which included Snoop Dogg, Nate Dogg, Lady of Rage, Daz Dillinger and Kurupt. While Dre never considered himself a rapper, and has regrettably only released one studio album since, he more than held his own with his smooth vocal delivery. His beats will always be unf—withable.
[yframe url='http://www.youtube.com/watch?v=fhr5UBZh1rY']
'Share My World' – Mary J. Blige
R&B fans had grown accustomed to Mary J. Blige providing the perfect anecdote to love's hangover, but the release of 1997's 'Share My World' moved the Brooklyn native in a different direction. From the authoritative Lil' Kim-assisted single 'I Can Love You' to the euphoric title track, Blige showed the different facets of her professional range. And the move paid off when 'Share My World' became her first album to top Billboard's Hot 200 in 1997.
[yframe url='http://www.youtube.com/watch?v=qd88YHGsFeo']
'The Low End Theory' – A Tribe Called Quest
A Tribe Called Quest forever altered the face of East Coast hip-hop with their sophomore release, which featured their breakout hits 'Scenario' and 'Check the Rhime.' Over Tribe's signature jazzy production, the original rap hippies waxed eloquent on a variety of subjects, including wack promoters, the importance of owning a SkyPager and the dangers of date rape, unwittingly creating a conscious rap masterpiece that sounds as good today as it did back in 1991.
[yframe url='http://www.youtube.com/watch?v=X9Gd7pAbUjk']
'The Miseducation of Lauryn Hill' – Lauryn Hill
Lauryn Hill's 1998 debut album, 'The Miseducation of Lauryn Hill,' is a staple for any music lover's collection. Blurring the lines between hip-hop, soul and R&B, the former Fugees frontwoman proved to be one of the few artists whose rhymes were as commanding as her vocal abilities. The album not only showcased her prolific writing skills but was hailed by critics, revered by fans and earned her a record 10 Grammy nods, of which she took home five in 1999.
[yframe url='http://www.youtube.com/watch?v=5xbILlr4RsA']
'Songs In A Minor' – Alicia Keys
Alicia Keys changed the tide of R&B music with five simple words: "I keep on fallin'…" The lead single 'Fallin',' off her seminal debut LP, 'Songs in A Minor,' acted as a precursor to a new sound that was part R&B, part soul, part hip-hop and all piano. The New York native delivered each track with the gusto of a woman well beyond her years. Mix that with her around-the-way-girl persona and lyrics touching on love and self-esteem, and it's no wonder that the album remains relevant today.
[yframe url='http://www.youtube.com/watch?v=JtMUIwOE2ss']
'Illmatic' – Nas
Arguably the most hyped debut, with the biggest payoff of all time, at the age of 20, Nasty Nas' name was murmured everywhere from junior high schools to prison yards as hip-hop's second coming. With the most impressive production lineup of all time — depending on which hip-hop head you ask — including DJ Premier, Pete Rock, Large Professor and Q-Tip, Nas delivered a legendary lyrical performance. The voice of a teenage poet immortalized a New York that no longer exists with his visual wordplay.
[yframe url='http://www.youtube.com/watch?v=FOqopkSQmx0′]
'The Writing's on the Wall' – Destiny's Child
Regardless if Destiny's Child were comprised of four ladies with a penchant for soulful singing or three, the R&B set grabbed hold of the spotlight and shared their fresh formula for girl group super stardom with the masses. Their words on their sophomore LP were replete with getting rid of cheating men ('say My Name'), paying their own way ('Bills, 'Bills, Bills') and spending quality time with their lady friends ('Jumpin, Jumpin"). The album scored multi-platinum sales mainly for Beyonce and Kelly Rowland's chemistry on record.
[yframe url='http://www.youtube.com/watch?v=sQgd6MccwZc']
'Reasonable Doubt' – Jay-Z
An undisputed classic album from a Brooklyn rhymer who's never seemed to falter in front of a mic, Jay-Z's 'Reasonable Doubt' put his life growing up in a drug-infested neighborhood riddled with crime on public display. His brutal honesty and the gritty imagery showcased in his rhymes proved that he had a story to tell and he wasn't shy in sharing the highs and lows of it all. Legends like DJ Premier and Clark Kent added beat work while Hov's braggadocio raps on 'Can I Live' and 'Brooklyn's Finest' gave hip-hop fans lyrical food to feed off of.
[yframe url='http://www.youtube.com/watch?v=dJRB9BFx2w4′]
'One in a Million' – Aaliyah
Aaliyah worked with the likes of R. Kelly on her debut album 'Age Ain't Nothing But a Number,' but she helped to usher in a new sound of R&B when she released her sophomore album in 1996. Crafted in part by beatmaker Timbaland and Missy Elliott, who wrote many of the R&B beauty's songs featured on the LP, the trifecta came together as a force to be reckoned with and served as a new guideline to follow. The title track as well as 'If Your Girl Only Knew' and '4 Page Letter' were just an inkling of the changing musical landscape that R&B was heading towards.
[yframe url='http://www.youtube.com/watch?v=VKbWF1jwMhE']
'Life After Death' – Notorious B.I.G.
His sophomore album and unfortunately a posthumous one, Biggie showcased his rhyming dexterity on this follow-up to 1994's 'Ready to Die.' The rotund rapper was more polished on this effort and gave new meaning to feature collaborations when he teamed with some of hip-hop and R&B heavyweights — Jay-Z, Mary J. Blige, 112, R. Kelly, Too $hort — and still had the ability to outshine his counterparts. From 'Sky's the Limit' to '10 Crack Commandments' the esteemed storyteller took listeners on a lyrical journey into his world that was unbelievable.
[yframe url='http://www.youtube.com/watch?v=6df0rha_Opw']
Source: The Boombox
Leave a comment below and let us know what you think.